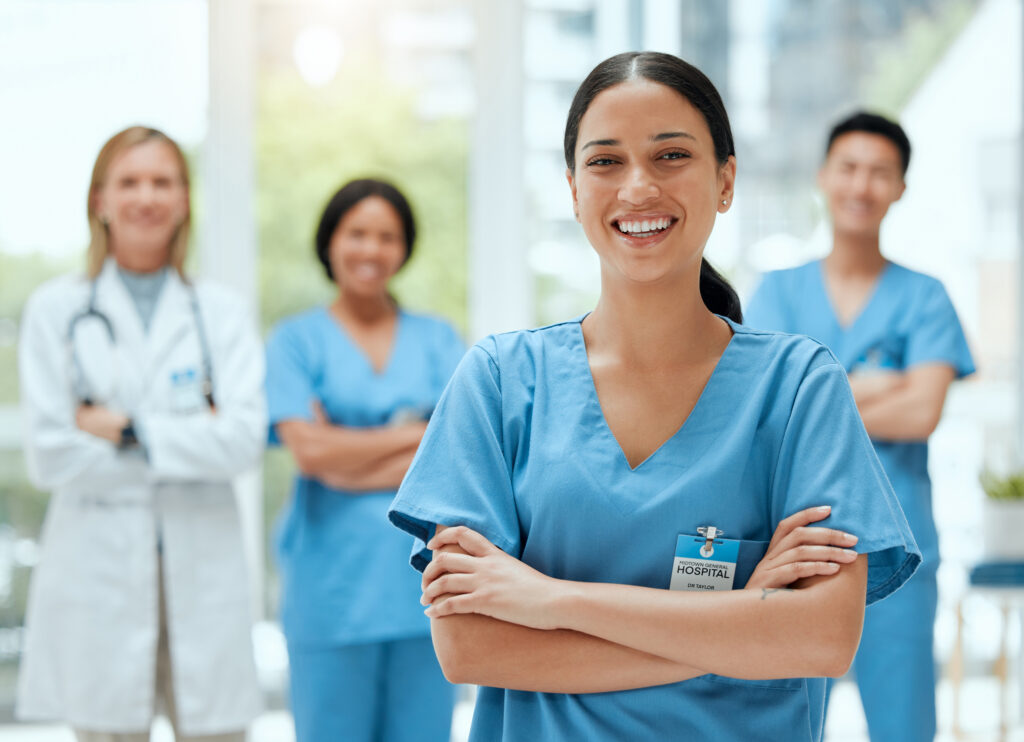 Healthcare is a booming industry, so why not prepare for a brighter future in the medical field? Whether you're a people person or a number-cruncher, your talents are in demand. You can choose from clinical or non-clinical roles, and it takes less than a year to become a medical assistant or a medical billing and coding specialist. If you're ready for a challenge, healthcare is ready for you.
What Does a Medical Assistant Do?
Medical assistants perform clinical and administrative duties in healthcare settings from doctor's offices to hospitals. If you have an aptitude for science with a side of business savvy, it's a rewarding field. The work includes:
Scheduling
Medical assistants work closely with providers to manage a tight schedule. They partner with the front office team, triaging urgent phone calls so that the sickest patients are seen first. Keeping doctors busy but not overwhelmed is in the best interest of patients who want thoughtful, unhurried care.
Rooming Patients
Once patients check in, medical assistants serve as their guides. They walk patients to treatment rooms where they update their records, take their vital signs, perform diagnostic tests, and help them change for their exams. Completing these clinical and clerical tasks while the doctor is with another patient saves valuable time.
Diagnostic Testing
Routine diagnostics, such as electrocardiograms, pregnancy screens and pacemaker checks, no longer require a trip to the hospital. Medical assistants can perform them in the comfort of a doctor's office.
Phlebotomy
Medical assistants draw blood, making testing more convenient for patients. You'll process samples, prepare them for shipping or do the analysis yourself if your workplace has a lab.
Minor Wound Care
Medical assistants manage minor wounds and post-surgical incisions from suture removal to bandaging. You may also help nurses with more complex dressings.
Surgical Assisting
Doctors rely on help from medical assistants to perform minor surgical procedures. You'll set up the proper equipment, pass instruments and monitor the patient. After, you'll clean up, sanitize the area, and sterilize the instruments. It's a medical assistant's responsibility to keep patients safe by controlling the spread of germs.
Patient Education
Medical assistants engage with patients when providers can't. As liaisons, they make the most of doctors' time by managing calls, messages, and correspondence.
They can't offer medical advice, but they can reinforce the physician's recommendations and relay instructions on their behalf. You'll help patients understand new medications and prepare for tests and procedures.
Billing and Coding
Most clinical tasks include a billing and coding component. Tracking services rendered is critical for generating revenue. However, medical assistants are also trained to handle tasks from invoicing to collections so that they can fill in when necessary.
What Does a Medical Billing and Coding Specialist Do?
Medical billing and coding specialists manage insurance claims and invoicing for private practices and institutions. Their responsibilities include:
Coding Insurance Forms
Medical codes are standardized, alphanumeric sequences describing symptoms, disorders, procedures, equipment, and supplies. Medical billing and coding specialists translate health information into universal codes that insurers understand.
Filing Claims
Most medical bills are covered by health insurance, but doctors don't get paid until claims are approved. Medical billing and coding specialists complete the forms and submit them for review.
Posting Payments
Medical billing is complex. A single invoice may have multiple payers plus additional charges or discounts to apply. Medical billing and coding specialists track payments on patients' accounts, ensuring an accurate balance at all times so that each payer, including the patient, knows what they owe.
Appealing Denied Claims
Insurers reject a small amount claims due to insufficient or incorrect data. However, practice revenue hinges on reimbursement, so it's up to medical billing and coding specialists to troubleshoot issues.
You'll examine claims, determine why they were denied and gather the data necessary for approval. The goal is a quick turnaround.
Requesting Pre-authorizations
Under some policies, certain treatments must be pre-approved. Medical billing and coding specialists work directly with insurers to obtain pre-authorizations. They collaborate with the clinical staff to paint an accurate picture of what the patient needs and why. Requesting pre-authorization protects both practices and patients from financial liability.
Bookkeeping
Medical billing and coding specialists manage bookkeeping tasks from balancing cash drawers to reconciling credit card payments. Other duties include invoicing and collections.
Medical Assistant vs Medical Billing and Coding Specialist
Medical assisting and medical billing and coding are both fulfilling careers. Which one you pursue should reflect your aptitudes and career goals. There are significant differences in the responsibilities and rewards.
Duties
A medical assistant's role is both clinical and clerical. In most practices, clinical responsibilities take precedence, you'll devote most of your time to patients. Jobs with a more administrative focus, however, are available.
Medical billing and coding is a non-clinical role with no direct care responsibilities, the duties are exclusively financial. You'll spend more time with computers than with people.
Training
Medical assisting programs cover clinical and administrative procedures, but the training in billing and coding is less comprehensive. You'll learn what medical billing and coding specialists do in the context of your clinical responsibilities, so you can help bridge the gap between the exam room and the back office.
Medical billing and coding programs cover financial topics in detail, but the clinical training is limited. You'll learn just enough to facilitate coding.
Employment Settings
Many medical assistants work for doctors, the rest are employed by hospitals, clinics, chiropractors, and public health departments.
Medical billing and coding specialists are also employed in private practices and healthcare facilities. However, they may also work in non-medical settings, including pharmacies, insurance companies, medical supply firms, and independent billing agencies.
Working Environment
Healthcare facilities are fast paced, there's never a dull moment. How much excitement you want on an everyday basis should help decide where you want to work.
Medical assistants can choose an action-packed hospital or a doctor's office where the pace is more relaxed. Still, as part of the clinical team, they need to be flexible, emergencies happen when they're least expected.
Medical billing and coding specialists stay busy, but crises are limited to dollars and cents, not life and death. It's a good career choice if you prefer a more structured and predictable day.
Work-Life Balance
Full-time medical assistants work a regular Monday through Friday schedule. A great job for parents, you get evenings and weekends off with the kids. On-call and overtime demands are rare. For evening birds and night owls, there are always off-hours opportunities in hospitals and urgent care clinics.
Medical billing and coding specialists enjoy a similar schedule, but evening or overnight jobs are challenging to find. Because your job requires engaging with insurers, plan on working a traditional 9 to 5.
Careers in medical assisting and medical billing both offer an enviable work-life balance with opportunities for part-time and job-sharing positions.
Coworkers
Medical assistants are surrounded by patients, peers, and professionals. Members of the administrative and clinical teams, they work with doctors, nurses, administrators, and billing managers.
Medical billing and coding specialists have less interaction with medical professionals and more with peers, insurers, managers, administrators, accountants, and auditors. You'll only contact the clinical team when you need to clarify data for a claim.
Career Growth
Medical assistants have advancement potential. Some build on their diplomas and move into related fields, like nursing. Others grow into supervisory roles as they gain experience, becoming clinical team leaders or office managers.
Medical assistants are also eligible for dozens of specialty certifications that pad their credentials. A cardiology certificate, for example, opens doors in the heart health field. If you tend to get bored in jobs and like to switch roles without changing careers, medical assisting is an excellent choice.
Medical billing and coding specialists have growth opportunities in administration. Working on a degree while you gain experience is the fast track up the career ladder. And lateral moves are always an option. In a busy hospital, medical billing and coding specialists qualify for many positions.
Personal Fulfillment
Most medical assistants choose the field because of the personal connections they make with patients. You'll work one-on-one with vulnerable people, and it feels good to know you've changed lives.
However, medical billing and coding can be an equally gratifying role if you prefer less intimate relationships with patients. You'll still be part of the medical field, providing an invaluable service to your community. However, you'll be insulated from the emotional ups and downs that come with caring for the sick.
How Do You Become a Medical Assistant or Medical Billing and Coding Specialist?
Enrolling in a vocational school program is the first step to becoming a medical assistant or a medical billing and coding specialist. You'll graduate with a diploma in less than a year. If you're unhappy with your current job, these lifestyle-friendly programs are ideal for adult learners who want a fresh start without spending years in a 4-year college.
Medical assisting and medical billing programs prepare students for the certifications upon which they can build a career. And they offer robust job placement services. They're not satisfied until you find quality employment.
Final Thoughts
Now that you know the difference between medical assistant and medical billing and coding specialist, it is time to learn more about Gwinnett College. We can help you decide which healthcare career is best for you. Whether you're a wellness enthusiast with a passion for science or a financial guru with a talent for billing, there's a career in healthcare for you.
Want to Learn More?
Medical Assistant Program
Gwinnett Colleges & Institute offers medical assisting courses to gain essential skills and training at multiple campuses from Lilburn, Sandy Springs and Atlanta/Marietta to Orlando, FL and Raleigh, NC. The core curriculum at these campuses focuses on the medical assisting skills and training you will need to seek entry-level employment in physicians' offices, clinics, hospitals, and other medical settings needing the services of associates trained in both front and back office medical assisting skills. These medical assisting courses will be the first step in starting a rewarding career.
Medical Billing and Coding Program
Gwinnett Colleges & Institute's Medical Billing and Coding programs will provide you with the opportunity to learn insurance coding and processing, medical administrative procedures, and the regulatory requirements in the healthcare delivery system.  School externships provide the opportunity to apply the medical billing and coding skills learned in the classroom in actual medical settings. Gwinnett Colleges & Institute offers medical billing & coding courses to gain essential skills and training to achieve entry-level positions in this career field. These medical billing & coding courses will be the first step in starting a rewarding career.
Contact us to learn more about how you can become a medical assistant or medical billing and coding specialist today.