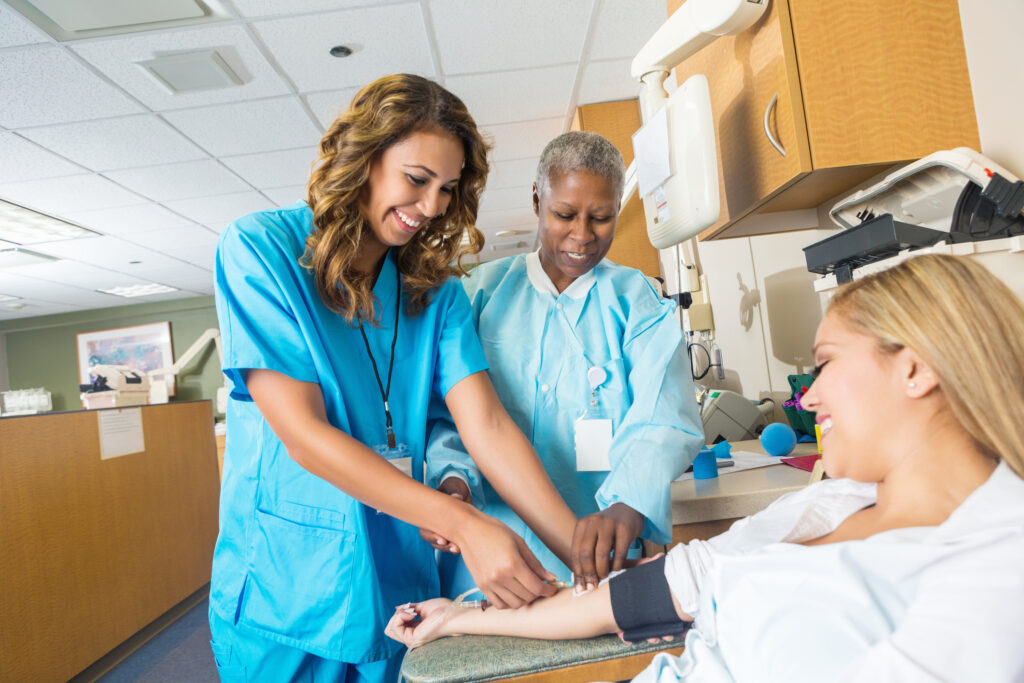 Demand for phlebotomists is soaring, the US Bureau of Labor Statistics predicts a 17-percent increase through 2029. There's never been a better time to seek training, but there's more than one pathway to success in this up-and-coming career. Do you want to be a medical assistant that performs phlebotomy or just a phlebotomist? Let's take a closer look at your options.
What Does a Phlebotomist Do?
Phlebotomists draw blood samples for diagnostic testing. Taken from veins, the low-pressure vessels that return blood to the heart, it's a low risk but highly technical task requiring people skills and clinical expertise. Phlebotomists manage the sampling process from start to finish, including:
Reviewing Orders
Orders for blood draws come with paperwork specifying which tests the doctor wants. Medical codes justify each request and are used for billing purposes. It's the phlebotomist's role to review orders for accuracy and screen patients for compliance with pre-procedure restrictions, fasting, for example, is essential for some tests.
Obtaining Consent
Phlebotomy is a medical procedure requiring patients' informed consent. Patients have the right to know what the process involves, so education is a key component of preparation.
Choosing Equipment and Supplies
Phlebotomy equipment is designed for a wide range of patients from children to seniors, no two individuals are alike. Sample tubes are color-coded to reflect the additives they contain, some tests require one or more. Phlebotomists use their clinical know-how to evaluate patients and make the most appropriate selections.
Positioning Patients
Positioning for phlebotomy depends on where the patient is and their history of tolerating the process. Most adults sit in a chair with a stable armrest, but patients who are fearful or have a history of fainting should lay down. Children may be best drawn sitting on a parent's lap. It's up to the phlebotomist to evaluate the patient and make safe judgments.
Drawing Blood
Phlebotomy is multi-step process standardized for efficiency. The phlebotomist:
Cleanses the skin where blood will be drawn.
Places a tourniquet above the draw site to identify a suitable vein.
Inserts the needle and holds it in position until the collection tube is full.
Withdraws the needle and applies pressure to the site to stop the bleeding.
Applies an adhesive bandage to protect the site and the patient's clothes.
Blood cells are delicate so using the proper technique is critical. A hemolyzed sample, blood with damaged cells, may be rejected, resulting in a costly and uncomfortable redraw.
Processing Samples
Processing includes labeling tubes with the patient's name, date of birth and the date and time blood was collected. Some samples must be spun in a centrifuge and the serum extracted. Others must be refrigerated or frozen immediately. Depending on their role, phlebotomists may also prepare samples for shipping to specialty labs.
Aftercare
Occasionally, patients may suffer adverse effects from phlebotomy including dizziness, bruising and tenderness at the draw site. Before they leave, phlebotomists review post-care instructions with patients, so they understand how to treat these symptoms at home and who to call if they don't resolve.
Phlebotomist vs Medical Assistant
Students can become phlebotomists by taking a 12–16-week training course, it's a quick way to launch a new career. But by investing just four to five more months in your education, you can learn the same skills and many more in a medical assisting program, graduating with a diploma. It's a better value with benefits including:
Job Security
The healthcare industry is growing, so both medical assistants and phlebotomists are in top demand. There are, however, more opportunities for medical assistants that get phlebotomy training than phlebotomists alone.
Greater Potential for Advancement
Phlebotomists do important work, but their opportunities for advancement are limited. With experience, the most talented can rise to supervisory positions, but there's minimal room for professional growth.
A medical assistant has many more skills to offer. Adaptable, they're more likely to qualify for advanced positions with greater responsibility.
A More Fulfilling Role
Phlebotomy is vital work, but it's limited in scope and can only provide so much personal satisfaction. Patients come and go, and you'll rarely make lasting connections or see their progress.
Medical assistants approach phlebotomy in a more holistic way. They care for the same patients continually, building lasting, therapeutic relationships. It's a more meaningful role with a greater impact on the lives of others.
What Does a Medical Assistant Do?
Phlebotomy is only one part of a medical assistant's job. They have a broad range of clinical and administrative responsibilities including:
Fielding telephone calls
Managing the schedule
Rooming patients
Updating medical records
Processing referrals
Completing insurance forms
Ordering supplies
Coding and billing
Taking vital signs
Performing diagnostic tests
Administering immunizations
Assisting with minor surgical procedures
Removing sutures
Applying dry dressings
Sterilizing instruments
Maintaining equipment
Stocking exam rooms
Patient education
Miscellaneous clerical tasks
Phlebotomy
Where Can Medical Assistants Use Their Phlebotomy Skills?
As demand for phlebotomy increases, so are the settings in which medical assistants can use their phlebotomy skills, including:
Doctor's Offices
The majority of medical assistants work in private practices. Phlebotomy, once exclusively performed at hospitals, is now a convenience service many offices offer. It's a source of revenue for practices and a convenience for patients, but it requires qualified staff to perform.
Doctors could hire phlebotomists, but recruiting medical assistants makes more sense because they have other skills private practices need. Under supervision, they can do more than just draw blood, they can educate patients on the physician's behalf about how testing fits into their care. It's one of the many reasons medical assistants are more in demand than phlebotomists.
Hospitals
Hospitals hire phlebotomists to work in their laboratories serving both inpatients and outpatients. You'll be doing the same type of tasks every day, and it's a fast-paced environment. But if you're passionate about phlebotomy, you'll encounter cases you'd never see in a medical office, working with the acutely ill is much more challenging.
Clinics
Clinics are similar to hospitals but because the staff is limited, well-rounded medical assistants are preferred over phlebotomists. In a large medical center, team members have focused roles, but with only a few people working, each person must have flexible skills. Medical assistants can handle almost any responsibility in a clinic from taking vital signs and performing phlebotomy to greeting patients and filling out insurance forms.
Insurance Companies
Some health and life insurance companies require physicals for new patients, but many only require lab work, a set of screening tests to help determine their risks. The most economical way to do this is to send a phlebotomist to people's homes to collect samples. However, it's a perfect job for a skilled medical assistant with clerical and clinical skills that exceed what's taught in basic phlebotomy courses.
Final Thoughts
The job market is changing. Humans are being replaced by technology, and in some cases, entire industries are disappearing. Education is an investment, so if you're considering a new career, why not choose one that's in demand like medical assistant? Phlebotomy skills are marketable today and will continue to be relevant long into the future.
Did learning about phlebotomy and medical assisting interest you? Gwinnett Colleges & Institute offers medical assisting courses to gain essential skills and training. The core curriculum focuses on the medical assisting skills and training you will need to seek entry-level employment in physicians' offices, clinics, hospitals, and other medical settings needing the services of associates trained in both front and back office medical assisting skills. These medical assisting courses will be the first step in starting a rewarding career.
Contact us to learn more about how you can become a medical assistant today.